20. März 2015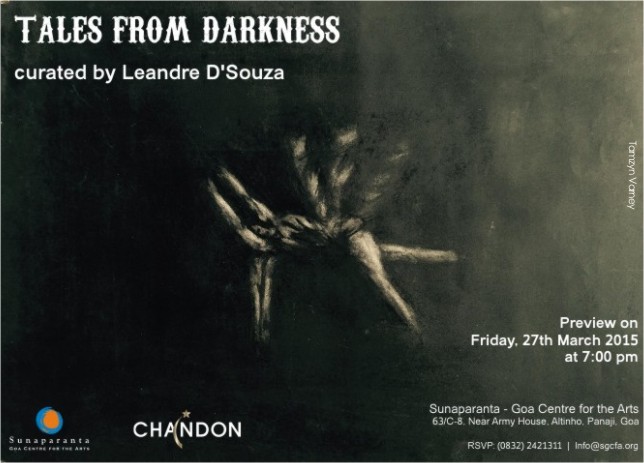 Sunaparanta, Goa Center for the Arts
preview: Friday 27th March 2015 – 7:00 pm
(63/C-8, Near Army House, Altinho, Panaji-Goa)
Sanell Aggenbach (South Africa) | Sonja Alhäuser (Germany) | Pablo Alonso (Germany-Spain) | Lori Anika (Denmark) | Laura Baginski (U.S.A.) | Alexandra Baumgartner (Austria) | Matthias Beckmann (Germany) | Boris Beja (Slovenia) | Marc Bijl (The Netherlands) | Armin Boehm (Germany) | Jan-Henri Booyens (South Africa) | Lutz Braun (Germany) | Laura Bruce (U.S.A.) | Stuart Cairns (United Kingdom) | Nenad Cizl (Slovenia) | Ben Cottrell (United Kingdom) | Eric Decastro (France) | Mandakini Devi (India) | Jos Diegel (Germany) | Kedar Dk (India) | Thomas Draschan (Austria) | Peter Duka (Germany) | Nils Daniel Ebert (Germany) | Mina Fina (Slovenia) | Heiner Franzen (Germany) | Crisologo Furtado (India) | Andrew Gilbert (United Kingdom) | Liza Grobler (South Africa) | Jayant Gupta (India) | Florian Heinke (Germany) | Lori Hersberger (Switzerland) | Gregor Hildebrandt (Germany) | Stefan Hirsig (Germany) | Johannes Hueppi (Germany) | Lisa Junghanss (Germany) | Katharina Kakar (India) | Isabel Kerkermeier (Germany) | Xenia Lesniewski (Germany) | Simone van de Loo (Germany) | Catherine Lorent (Luxembourg) | Polona Maher (Slovenia) |Jörg Mandernach (Germany) | Sandra Mann (Germany) | Rebecca Michaelis (Germany)| Mohau Modisakeng (South Africa) | Midhun Mohan (India) | Jan Muche (Germany) | Iris Musolf (Germany) | Elena Muti (Italy) | Viraj Naik (India) | Manfred Peckl (Austria) | Christian Pilz (Germany) | Richard Priestley (United Kingdom) | Eva Räder (Germany) | Römer + Römer (Germany / Russia) | Dennis Rudolph (Germany) | Ruth Sacks (South Africa) | Sebastiaan Schlicher (The Netherlands) | Bettina Scholz (Germany) | Ann Schomburg (Germany) | Marcus Sendlinger (Germany) | Natalija Šeruga (Slovenia) | Heidi Sill (Germany) | Katarina Sočan (Slovenia) | Alexander Skorobogatov (Russia) | Caro Suerkemper (Germany) | Nina Šulin (Slovenia) | Karuna Tank (India) | Alex Tennigkeit (Germany) | Tamzyn Varney (South Africa) | Urša Vidic (Slovenia) | Sašo Vrabič (Slovenia) | Maik Wolf (Germany) | Renate Wolff (Germany) | Michael Wutz (Germany) | Phillip Zaiser (Germany) | Thomas Zipp (Germany)
The incubus has been used as a recurrent motif in arts practice, often as a distorted reflection of our political and cultural realities. Tales from Darkness is a chamber of wonders revealing different faces of the horrific – individual fears, collective anxieties, universal horrors. It becomes a visual jumble opening our minds to a delirious territory, infested with haunted and grotesque presences, anxious doodles, and carnal abjections.
Part of a traveling exhibition brought to Goa by Berlin-based artists Marcus Sendlinger & Caro Suerkemper, it includes works on paper, sculptures and site-specific installations by artists from Germany, South Africa, UK, Slovenia, US and India. Since 2010, Sendlinger has been inviting artists to produce one work related to the subject of Alptraum – nightmare. In every destination, new works are added by local artists. The project signals a new form of art-making, one whose boundaries are constantly stretched and whose content remains in a state of perpetual flux.
By insinuating this sense of uncontrolled wandering into the innermost recesses of the human mind, the works lure the viewer into an eerie, threatening yet seductive imagery. It lays bare a private realm, a zone where one's most secret thoughts, beliefs, fantasies, fears disclose without barriers. It is a space of resistance, where the sinister, the irrational and the sensual collide and erupt with disturbing ease.
This exhibition is organized by Sunaparanta – Goa Center for the Arts and opens from 27th March till 30th April 2015.
Leandre D'Souza and Claudio Maffioletti
curators